Table of Contents
Every business yearns for a sales team comprising self-motivated achievers who proactively collaborate, close deals, and quickly hit their quota. They have an unshakable team spirit all the time. In an ideal world, this seems fair, but the ground reality is different.
According to a Sales Health Alliance survey,
That could happen because of several reasons:
They suffer from disengagement
They don't get proper guidance from their sales managers
The sales cycle has invariably lengthened due to external factors
In any case, only a tiny percentage of any sales team delivers. That is where friendly sales team competition games can make a difference. They are a tried-and-tested motivation tool in most business arsenals to get the salespeople hustling and keep their heads in the game.
As put aptly by the renowned novelist Edith Wharton, "Beware of monotony. It is the mother of all deadly sins." Sales can be an absolute grind, and even the most self-motivated salespeople need help in getting pumped up.
Diving deep into friendly sales competitions
Some of these contests are focused on readiness and preparation, which help refine business messaging. Others are about teamwork that nudges salespeople to target and achieve higher quotes together.
When you run a strategic, goal-oriented sales competition, you have the power to create an immediate impact and drive lasting performance and productivity enhancement in the team.
With the current work from home and remote setups, sales reps have gotten more isolated than ever before. Now is the perfect time to amp up their energy levels with sales friendly competitors to boost their motivation. When COVID-19 got people with the current work from home and remote setups, sales reps have gotten more isolated than ever before
Let us dive in.
Four steps to building a friendly sales competition
Here are four steps to building a friendly sales competition.
1. Goals, KPIs, and rewards - set them all
Don't organize a sales competition haphazardly thrown together to get the sales team going on a slow quarter, a quiet week, or a slow day. Your contest must have a clear goal, which could be turned into a data-oriented KPI.
For example, suppose your competition's goal is to get the sales team comfortable with experimenting with outbound strategies on LinkedIn. The KPI could be sending X number of InMail's in a day or week. But don't just focus on the volume. Instead, measure its effectiveness.
For instance, sending ten InMail's to profiles that are not the target audience is futile. Measure relevant efficiency metrics such as demos set up, responses, or connections received based on the InMail's sent.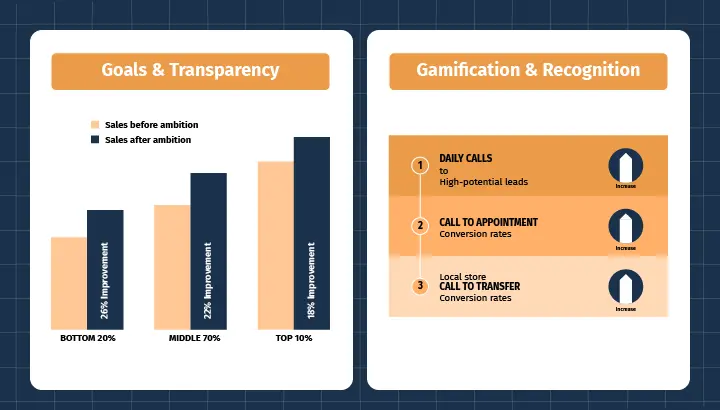 Regarding rewards, use current events to spark momentum. For instance, if your team is excited about a sporting event or the release of a new film, capitalize on that energy. If the budget allows, center the prizes around those events. Besides, let your salespeople decide the competition rewards. This practice has two advantages:
Your team is more invested as they directly control the most crucial part of the competition, i.e., prizes.
Rewards are not chosen on assumptions. You know the incentives that they care about.
Doing so will make your sales team thank you for handing over the reins and interest them, even more, to partake in the competition.
2. Create engaging but straightforward contests
Once you have decided on the goal, the next step is to think of effective sales contest ideas that can help your sales team achieve that goal. Contests should have an element of fun and be a memorable experience for the team.
Building friendly sales competitions ensure that your salespeople stay motivated. Here are 4 sales contest ideas for sales teams that you should try today.
For this type of contest, you must distribute the leads evenly across the sales team so that everyone has an equal chance to win. The LinkedIn InMail example makes a perfect conversion contest.  However, it is up to you how you would like to define "conversion" for this specific competition. The person who closes the most sales wins the prize.
This type of competition creates an environment where the entire sales team supports and encourages one another. How the Fantasy Premier League follows a draft format, your salespeople will take turns to select an objective, which will then be exclusive to that individual.
Each salesperson will be awarded points for the objectives reached. The team fetching the maximum points wins! When you reward the effort and not just the result, your salespeople will be encouraged to take their endeavors to the next level and go that "extra mile." That could include boosting the number of cold calls or following-up with older prospects.
List down a series of goals you would want the team to accomplish. That would be - a sale of 100 software sign-ups, a deal worth a specific dollar amount, or selling in a new geography.  Divide your salespeople into groups and challenge them to achieve every goal.
The objective of this game is to combine and utilize the qualities of every salesperson. For instance, if someone is proficient in using Sales Navigator and another one is well-versed with qualifying needs, the two can combine the skills and approach the prospect.
Because you utilize the person's proficiency in a specific task, it may not push them as aggressively as the traditional sales contests. However, this milestone sales contest is great for motivating the entire sales team and not just one person. Also, it is a smart way of combining two people's expertise to work in synergy.
Sometimes, small wins matter!
In every industry are big players that a business would like to have clients. Your enterprise is no exception. If your goal is to bag 2-3 dream clients in one year, convert that goal into a contest. Allocate each salesperson to one prospect.
The reward goes to the person who can make the biggest sale. Put a time limit to this so that your team can get cracking on the job ASAP and does not dilly-dally.
Regardless of what you choose, be clear and detailed in your communication. All participants should know what is expected of them. Ensure that your sales team should not have any problem understanding the rules of the competition. If it is hard to fathom, their enthusiasm for participating will take a hit.
You can also plan for various sales incentive contest ideas for your sales team.
3. Always share updates and maximize visibility
Share updates frequently - depending on how quickly each salesperson's status changes. You can integrate a gamification tool in your CRM system for everyone to track their progress 24/7.
This practice may even compel some salespeople to check it every hour or several times in a day. After all, it is in your hands to make them understand the contest is no funny business and how it contributes to their professional development.
If your team thinks the contest is just for fun, they will treat it that way with staggering levels of engagement. Moreover, sharing updates about the team's competition is even more critical if you currently manage a distributed team (or working remotely).
You can take it a notch further by integrating triggers and alerts on Slack that fire up as soon as a salesperson completes a critical activity in the competition.
To keep your sales team committed to the friendly competition, they should know where they stand, irrespective of where they work. Maximizing visibility across channels can not only do that but also hold everyone accountable for their goals.
4. Set a deadline for distributing rewards
From compensation plans and bonuses to commission structures, it is clear that money is the biggest motivator in the sales game. Regardless of the reward, sales contests are met with approval because the objective of winning them is to gain an incentive.
Meaning, the whole point of running a countback to square one if they have to wait a long time to receive their prizes. Therefore, distribute rewards as quickly as possible after the competition ends. Don't make the winners wait!
Rest is to motivate your sales team by incentivizing their efforts in the end.
Besides, even though incentives - financial or otherwise - can be motivating, being publicly recognized for efforts can also make a massive difference in the salespeople's morale.
Use communication tools such as Slack and email to announce and reward the competition winners. Acknowledge their work such that the whole company can see and cheer from the sidelines. Public recognition is a bonus you shouldn't miss.
Contests = Results
We hope the steps and creative ideas, as mentioned above, will help you create an entertaining sales team competition. Each of these contests should positively impact their motivation, overall morale, and, most importantly, their performance.
Start with listing out all aspects of the contest. That includes motivation, team size, team hierarchy, and location (remote or physically present). Ensure the involvement of every member of the sales team. When people participate and engage with rigor, you will witness a lasting behavioral change. Remember, sales teams thrive in a fast-paced environment. Such friendly competition can be the fuel much-need to drive their performance and take it to the next level!
Concluding with the golden phrase, "There are no magic phrases to motivate your team. Each day, your actions move the need forward."