SourceIRF
Incentive programs have long been around to engage, inspire and scale sales and channel partner growth by motivating the desired sales actions on a larger scale. Despite its variable nature, we cannot deny its direct impact on the organization's success.
Quality incentive programs can increase sales performance by as much as 44%. (Source: IRF)
Most companies employ financial and non-financial incentives to achieve the desired sales performance output. Some of them are:
Financial Incentives
Cash commissions
Bonuses
Referral cashback
Extra allowances
Profit-sharing
Employee stock options
Wage incentives
Retirement and fringe benefit incentives
Non-financial Incentives
Recognition programs
Non-cash merchandise
Work flexibility and autonomy
Paid travel and meals
Discounts and memberships
Learning and career opportunities
Job-status
However, research suggests that most organizations lack the technology or knowledge to create correctly structured programs to manage and measure their incentive calculations. This leads to a skewed picture of the total performance output from sales and an inaccurate measurement of incentives ROI. Additionally, the largely manual nature of the calculations makes real-time analysis almost impossible.
This article will address the importance of structuring your incentives program and investing in an Incentive Automation Platform to improve your bottom line.
Challenges posed by a manual incentive computation and management process
Unlike CTC, business results drive incentives, and their calculation depends on the sales profit. At the fundamental level, the formula for calculating a sales-based incentive payment is as follows:

For example, if Mark is responsible for $50,000 in sales this year and his sales incentive is 10%, his incentive payment should be $5000.
As the organization grows, other factors, including commissions, bonuses, etc., influence this computation. This makes it difficult to scale the calculations. Most incentive programs rely on a manual computation process where one or two designated HR resources have to use excel sheets and emails to calculate incentive compensation for each sale and channel partner representative. Some drawbacks of manual incentive calculation are: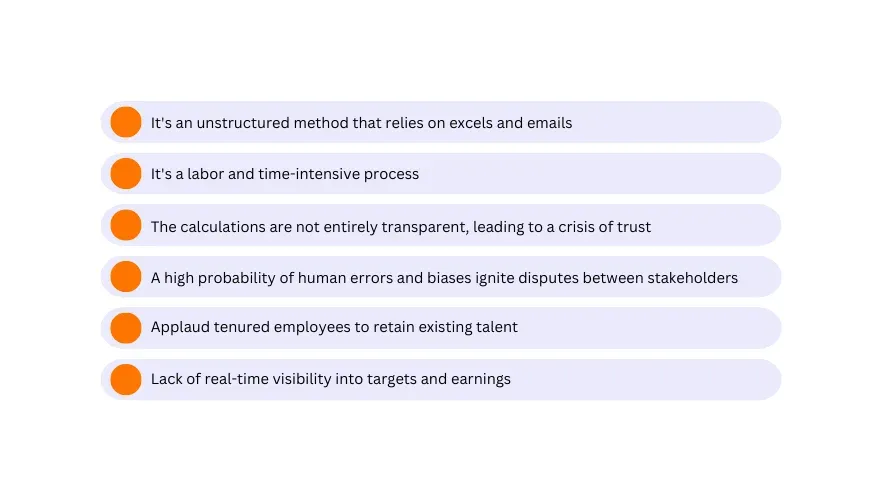 The advantages of investing in an incentive automation platform
Today, the rising popularity of Incentive automation has many SalesOps and RevOps Leaders questioning the need to invest in costly software to automate commissions vs. continuing to deploy one or two resources to calculate them manually.
To answer this, we need to look at the rise of incentives automation (IA) as a distinctive cloud-based solution combining multiple modules into a single behavior-based strategy that influences sales performance globally by accelerating time to revenue.
Incentives Automation (AI) today is taking incentive programs from intuition to a science, ensuring brands deploy the right mix, level, and cadence of incentives to improve revenue and profit from the channel. (Source: LinkedIn)‍
Most incentive automation platforms today use learning algorithms to determine the range and levels of incentives based on individual profiles and behavioral histories. By analyzing the sales and channel partner audience in real-time, an incentive automation platform can calculate the right amount and kind of incentive.
Instead of replacing the resources that manage commission and incentive calculation, this AI-based computation can become a powerful tool to empower your existing resources to do more strategic work using real-time data and insights.

In other words, an incentive automation platform can empower everyone to become revenue-driving champions, from sales and channel partner teams to sales leaders, commission managers, and finance teams.

How incentive automation can empower sales and channel partners?
Here is how incentive automation via Compass can help empower sales and channel partners:
‍
How incentive automation can empower managers?
Here is how incentive automation via Compass can help empower managers:
‍
How incentive automation can empower administrators?
Here is how incentive automation via Compass can help empower administrators:
Champion greater revenue growth‍
When companies invest in a good incentive automation platform, the main aim is to benefit the sales department. However, the benefits trickle down to the rest of the company - maximizing profits, increasing market share, improving forecasting, and overall data analysis. Ultimately, it becomes a weapon empowering everyone, from sales and channel partner teams to sales managers and commission managers, to champion greater revenue growth.